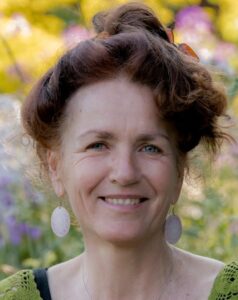 Renata Keller | Film Director, Dialogue Faciliator, Adult Educator
I am a filmmaker, dialogue facilitator and adult educator and live in Switzerland and Berlin and have been working in the field of artistic design for 30 years. I have been leading dialogue seminars and dialogue salons in various contexts for over 20 years and am currently moderating Climate Change talks in Switzerland. Having experienced often how dialogue can be an active practise for peace, and also allows to develop new visions, I am passionate about sharing unifying and artistic dialogue practise with people. With a master's degree in Applied Imagination at University of Arts, I went on to study documentary filmmaking in London. My lifelong pursuit of philosophical and spiritual questions, along with my interest in women's development, led me to Gerda Lerner's work and inspired the creation of Why Women Need to Climb Mountains (2016). In the film True Healing Arises in Freedom (2019) I accompany the Biochemist Dr. Roger Kalbermatten in his research about the nature of healing plants and their relationship with humans. My meeting with Vimala Thakar and my  questions about the values of our times has led me to make the film In the Fire of Dancing Stillness (2021).  Ideally, these films should also be door openers for open dialogue and in-depth conversations about existential life questions. Soon the shortfilm A Dog's Life in Emmental will have its Premiere. I  was the co-founder, CEO and art director of the German philosophical quarterly magazine 'evolve'. www.verticalimpulse.com.

Photo: Ursula Morgenthaler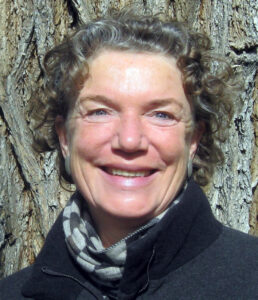 Anka Vollmann | M.A. | Process Facilitation, Dialogue Facilitation
Since my studies in journalism and communication sciences, sociology and linguistics at the Free University of Berlin and the Université de Yaoundé I (Cameroon), I have been intensively involved in dialogue and successful human interaction.
Professionally, after completing my master's thesis on dialogue in corporate communication, I first built up and managed press offices and communication departments in companies and in the social sector. In 2009 I founded klaerwerk berlin and since then I have been advising and supporting companies and organisations in internal change and clarification processes, mostly team and organisational development processes. 
In 2009, I encountered dialogue according to David Bohm in my training and further education (including systemic process facilitation for groups/Groupfield, Theory U – leading from the future, facilitation of Zukunftswerkstatt, practice of the Learning Organisation, dialogue facilitator): The joint observing and exploring with the intention of recognising more of the Whole together and the attitude that different views are an enrichment. It is not about convincing each other, but about listening to each other, being open and curious about each other and thus enabling a genuine encounter (according to Martin Buber). This is how solutions can be found that are supported by all, this is how something new can emerge.
I work in different contexts as a dialogue initiator and facilitator, both on a voluntary and a full-time basis.
Voluntary work: Successful social coexistence
Own dialogue project (since 2018) and cooperations with different players:
Corona Dialogues in cooperation with www.rohdedahl.de, www.fab-friendshipacrossborders.net
Networking in own and other neighbourhoods Involvement in www.kiezconnect.org